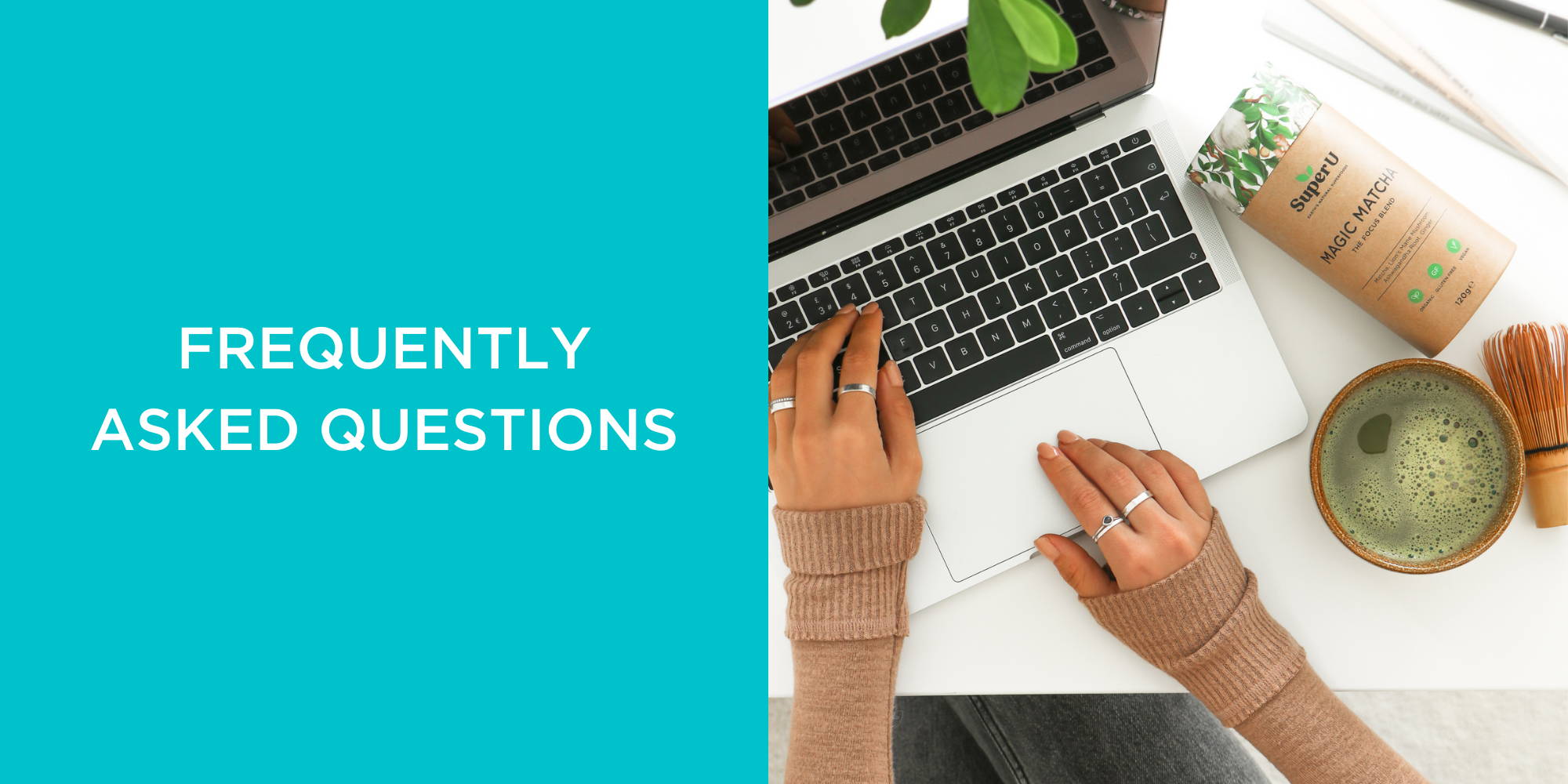 ---
WHAT ARE SUPERFOOD BLENDS?
Our superfood blends are making your life easier & healthier! Each blend features a number of superfoods, blended together in powder form - to give you a whole load of vitamins, minerals and nutrients from some of the most nutrient-dense superfoods in the world.
HOW ARE YOUR PRODUCTS FORMULATED?
All of our products are formulated in-house with the help of industry professionals. To ensure maximum nutritional benefit and great flavour.
Our superfoods are dried at low temperatures, in order to lock in their nutritional value and flavour. They are then tested to ensure they do not contain any heavy metals or harmful bacteria. Once they arrive at our facility, the powders are blended together and then filled into our cardboard tube packaging.
They are all certified Organic by Organic Farmers & Growers, UK. And are recognised as Organic within the EU.
ARE THEY GLUTEN FREE, VEGAN FRIENDLY, NON-GMO?
All of our blends are naturally gluten free & vegan friendly. And all of our superfoods are non-GMO certified.
Our Wheatgrass & Barley Grass have been independently tested to ensure they do not contain any traces of gluten.
Barley Grass is otherwise known as the young green leaves of the barley plant, before they form the grain (which contains gluten). The leaves do not contain any gluten.
Wheatgrass, we know full well that anything which says 'Wheat' sets off all warning signs for anyone who's coeliac or gluten intolerant, but you have nothing to worry about with this grass. Wheatgrass is the young grass of the wheat plant, the grass itself is completely gluten free.
Once you have pealed back the aluminium seal, make sure you keep the cardboard lid on-top of the tube whilst storing it away in a cool, dry place.
With our Pink Pitaya powder - this is a 100% freeze-dried ingredient, so is extremely sensitive to heat & moisture. Keep it well sealed, in a cool & dry place. We advise to consume this product within 30 days, once opened.
Add the recommended serving size to water, smoothies, milk, oats, yoghurt, hot water & healthy treats! All of our products are super-simple to use. Check out our recipe blog for some amazing, healthy recipes for you to try.
DO THEY INCLUDE ANY SWEETENERS, INCLUDING STEVIA?
We believe that it is really important that all of our products were completely natural (in both ingredients & in flavour). So we don't use any sweeteners or Stevia in any of our products - meaning they can easily be added to any liquid or meal without an artificial/overpowering aftertaste.
ARE THEY SAFE FOR CHILDREN?
Our products are child-friendly, so you can easily add some super-greens into their smoothies (without them realising). We wouldn't recommend our Shroom Coffee & Magic Matcha blends, due to their natural caffeine content.
DO THEY CONTAIN ANY FLAVOURINGS?
We don't include any flavourings or fillers in any of our products - always 100% natural.
---
---
WHAT ARE FUNCTIONAL MUSHROOMS?
Functional mushrooms are specific varieties of mushroom, that provide health benefits other than for nutrition.
WHAT MUSHROOMS DO YOU USE?
Across our 3 mushroom blends; Shroom Coffee, Magic Matcha & Coco Dream - we use 4 different mushrooms varieties:
Lion's Mane, Chaga, Cordyceps & Reishi.
Lion's Mane, which gets its name from its wonderful white shaggy appearance, has been used in ancient Chinese medicine for centuries. Lion's Mane is the mushroom for the brain! It helps all things cognitive; so helping improve memory, focus and productivity.
The Chaga mushroom thrives in colder climates where it grows for up to 20 years before reaching full maturity. It's been used in functional medicine for centuries in places like Russia and Siberia, where Chaga tea is brewed daily to specifically boost the immune system.
Grown in the high mountains of China, Cordyceps grow in some of the most extreme conditions. Cordyceps help stimulate the central nervous system and adrenal glands to support a steady release of energy, which also helps increase stamina and athletic performance.
Nicknamed "the mushroom of immortality", the Reishi Mushroom is a powerful superfood. This mushroom is as beneficial for mental health as it is physical. That's all down to its powerful adaptogen function which helps to regulate stress hormones, reducing the harmful effects stress has on the body. Its relaxation properties, make it the perfect mushroom to help improve your quality of sleep.
WHY DO YOU USE MUSHROOM EXTRACTS?
We use dual-extracted mushrooms in our blends to achieve the maximum nutritional benefit possible. Generic mushroom powders are a lot less potent in health boosting properties - so we always want to provide you with the best source of these amazing superfoods!
WHAT DOES DUAL-EXTRACTION MEAN?
We use a method called; Dual-Extraction, in order to obtain the maximum nutritional benefit from the mushroom as possible. The process is as follows:
Firstly, an alcohol extraction process which removes the fat-soluble compounds. Then, a hot-water extraction process which removes the water-soluble compounds. The mushroom is then ground into a fine powder to be easily added into our blends.
---
ORDER & SHIPPING QUESTIONS

UK Shipping:
Good news, we offer free shipping on all orders over £30.00. If your order falls below this, you will be charged a small shipping fee of £2.99.
For more information on our shipping rates for other countries - check out our Shipping page.
WHEN WILL I RECEIVE MY ORDER?
Our standard shipping option for all UK orders takes 1-3 working days.
For more information on our shipping options, click here.
CAN I AMEND OR CANCEL MY ORDER?
Our team work very quickly to pick and pack your order, so we give a 1 hour time-limit for you to notify us of any problems with your order, so we can make any necessary amendments.
If you fail to notify us of a problem, including an incorrect delivery address, we will re-dispatch the order once it has been returned to us which will require an extra shipping charge.
If you would like to cancel your order once it has been dispatched, you can return it to us for a refund. Read more about refunds here.
---
CAN I SWAP MY SUBSCRIPTION?
You can swap your subscription at any time if you'd like to change the product/s you're subscribed to for your next shipment. Please notify us by email at info@superu.co.uk and we will assist you.
I NO LONGER NEED MY SUBSCRIPTION, CAN I CANCEL?
We require a 2 shipment minimum before we can proceed to cancel your subscription, after this we can cancel your subscription at anytime. Read more about our Terms and Conditions for Subscription orders here.
HOW MUCH DO I SAVE BY SUBSCRIBING?
You save 15% on every product when subscribing and get free shipping! We also include exclusive gifts in your subscription orders.