The Queen of the Mushroom Kingdom: 3 Amazing Benefits of Reishi Mushroom

Known by mycologists and mushroom enthusiasts as "queen of the mushroom kingdom" and "the mushroom of immortality"; Reishi's reputation precedes itself! Read on to learn more about this amazing mushroom and how it can help you to relax, unwind and destress.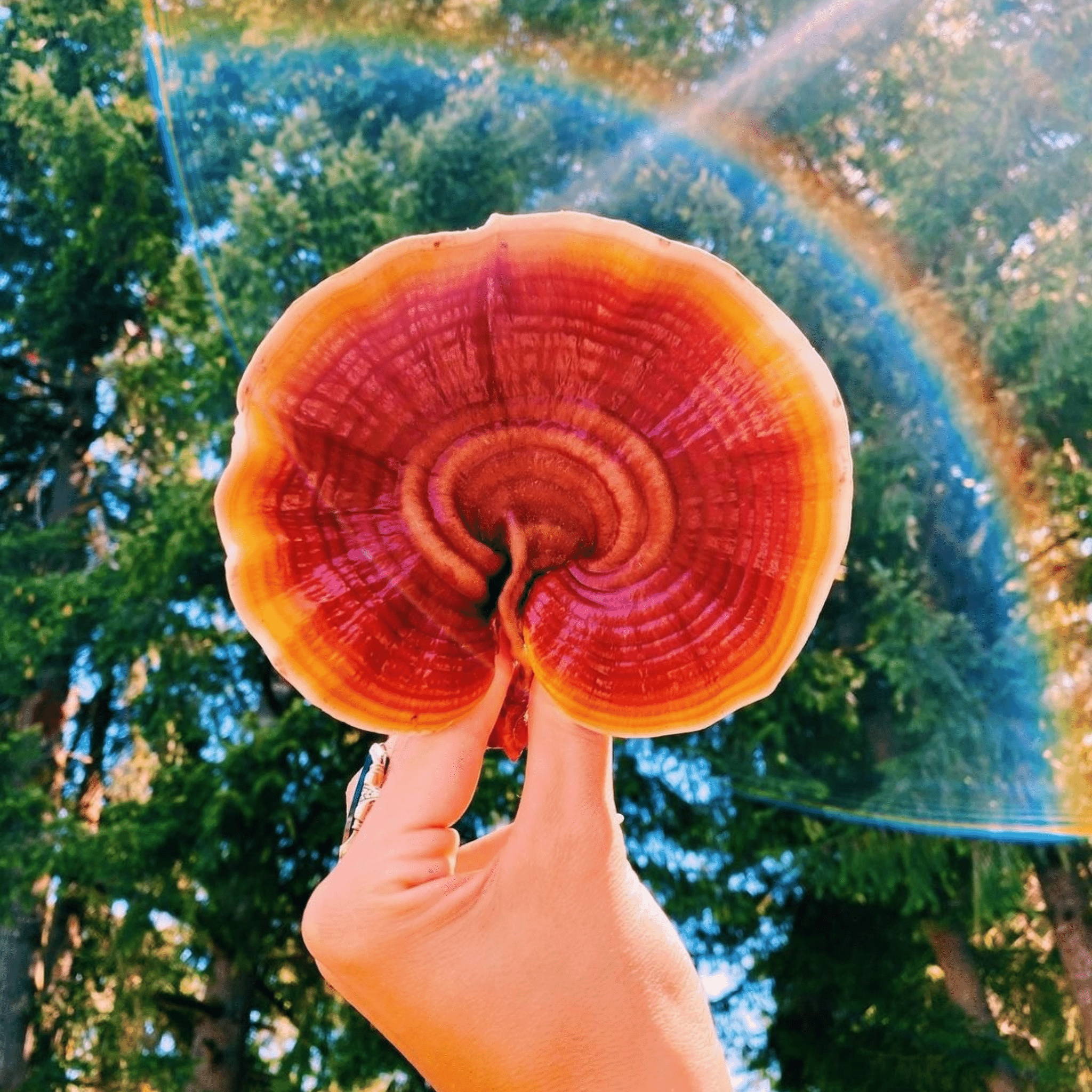 Meet the Mushroom: Reishi

Reishi is a fungus belonging to the genus Ganoderma. It has a distinctive red-varnished, kidney shaped cap and a fan-like appearance – one of the most striking mushrooms to look at.
Originating in Asia, Reishi has been used in Traditional Chinese Medicine for thousands of years and was once reserved for royalty and emperors only. To this day, Buddhists and Taoists continue to use Reishi extracts as a magical elixir of vitality and longevity.
Reishi is extremely rare in its natural form in the wild but luckily for us, it is now cultivated and extracted for its numerous health benefits. It is best taken as an extract as it has tough, woody flesh and tastes incredibly bitter.
What are the Health Benefits of Reishi Mushroom?

USE REISHI FOR:
Sleep & Relaxation
Stress & Mood
Immunity
Reishi is perhaps the most well-researched and widely studied mushroom. It provides a whole spectrum of physical and mental benefits. Let's explore further...

Reishi Mushroom for Sleep and Relaxation


Reishi Mushroom for Stress & Mood


Reishi Mushroom for Immune Health

Reishi mushrooms are a rich source of beta-glucans, natural polysaccharides which are known to activate and stimulate the immune system. Mushroom beta-glucans have proven to be an effective adjuvant therapy, helping to maximise the body's response to things such as vaccines which also target the immune system.
Reishi mushrooms are also naturally antiviral, antifungal and antibacterial. The compounds they contain stimulate production of immune cells such as Natural Killer (NK) cells and other white blood cells, whose activity fights off infection and disease.
Overall, it's clear to see why Reishi mushrooms are renowned for their immune-strengthening properties. Even for healthy individuals, Reishi consumption can help the immune system to function optimally to promote overall health and wellness, preventing illness from happening in the first place.
Coco Dream: The Chill Blend with Dual-Extracted Reishi Mushroom 🍄
Coco Dream (the chill blend) is a blend of raw Cacao, Reishi Mushroom, Ashwagandha, Dates & Cinnamon for the perfect superfood hot-chocolate alternative. It contains dual-extracted Reishi mushroom as well as the powerful adaptogen Ashwagandha and raw Peruvian Cacao, to help you relax, unwind and destress naturally with a delicious cocoa drink.
Easily added to smoothies, oats or enjoyed as a warming hot cocoa with your favourite plant-based milk, Coco Dream is a convenient and enjoyable way to get your daily serving of health-boosting Reishi.
---
---
---
---