Ground Mushroom Coffee: Everything You Need to Know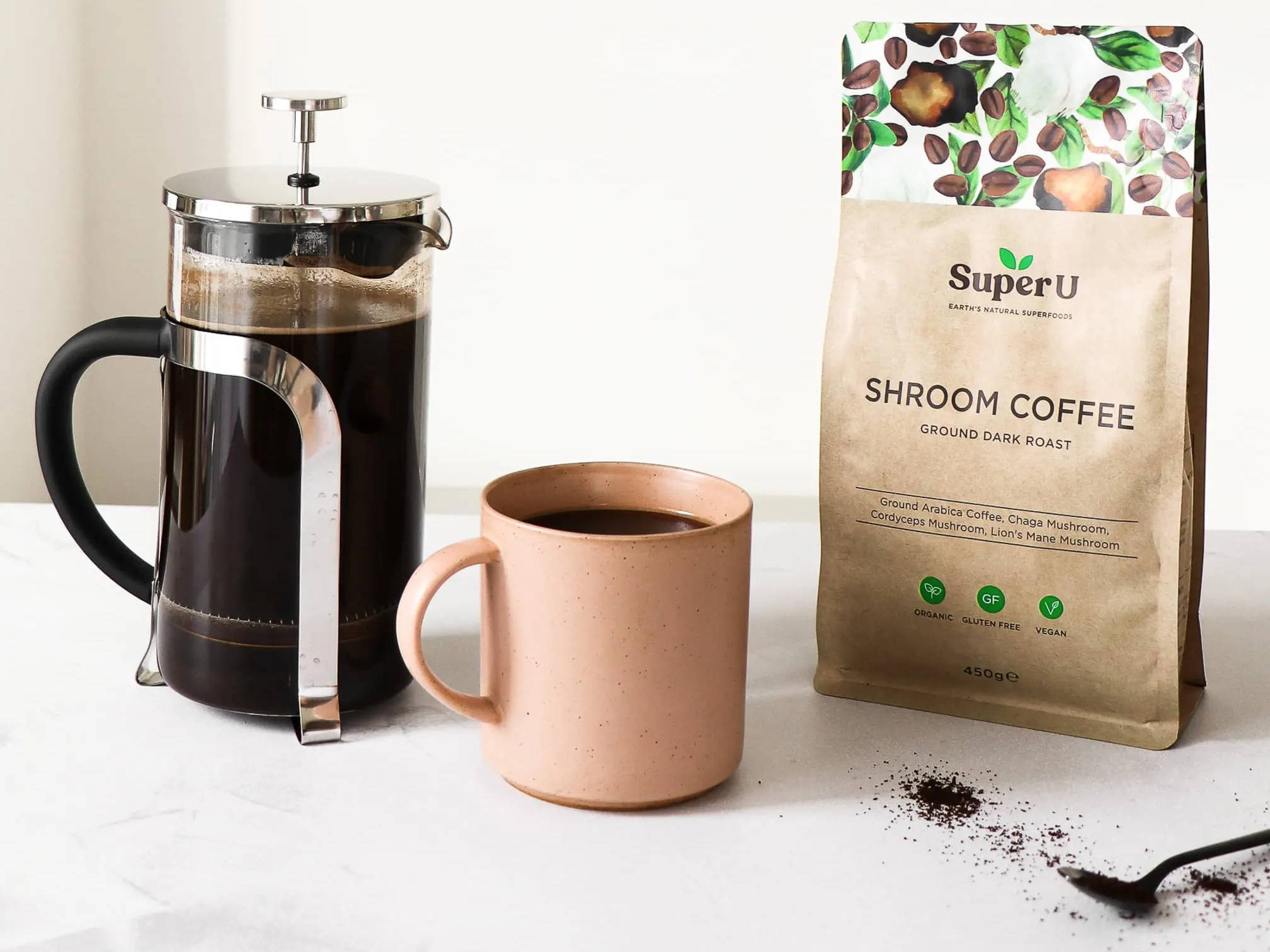 Shroom Coffee: Ground Dark Roast

Organic Arabica Coffee from the mountains of Guatemala & Costa Rica meets powerful functional mushrooms for a perfectly balanced brew that's as satisfying as it is energising. Enhance focus, concentration and gain mental clarity with every sip – minus the caffeine crash! Read on to discover everything you need to know about your new upgraded coffee.

Everything You Need to Know About Our Ground Mushroom Coffee

How does Ground Mushroom Coffee Taste?
Smooth, nutty, aromatic and rich with a subtle hint of cocoa.

How Many Servings Per Pack of Ground Shroom Coffee?
30 servings in every pack – enough to cover your daily brew for a whole month at just £1 per cup.
Do you include Mushroom Extracts in your Ground Coffee?
Lion's Mane, Cordyceps & Chaga mushrooms take our ground dark roast coffee to the next level, helping you to stay switched on, focused and power through your busy schedule.
With 600mg dual-extracted functional mushrooms in every cup, this Mushroom Coffee is designed to optimise your natural energy production – giving you the amazing taste of premium coffee but minus the caffeine jitters and mid-afternoon slump.
What's Are The Ingredients?
Ground Arabica Coffee – Organic and sustainably sourced Arabica coffee beans from the mountains of Guatemala & Costa Rica. Also known as "mountain coffee", the Arabica species of the coffee is the most popular in the world, thriving at high altitudes for a distinct aromatic flavour. Our beans are roasted to perfection to create a dark, smooth coffee with subtle flavours of cocoa, before being blended and finished here in the UK.
Chaga Mushroom – Also known as "Gift from God", Chaga mushrooms are a favourite in functional medicine. Chaga works to reduce inflammation in the brain, helping to keep neurons and brain cells healthy for optimal cognitive performance. Chaga is also utilised for its incredible immune-boosting and anti-ageing properties, helping you to look and feel your best.
Cordyceps Mushroom – A natural energy enhancer for body and mind, Cordyceps helps to enhance cognitive performance and support overall brain health. This amazing mushroom stimulates the central nervous system and adrenal glands to support a steady release of energy. This helps to increase oxygen flow in the brain, improving learning capacity and memory as well as fighting back against mental fatigue.

Lion's Mane Mushroom – Best known for its nootropic properties, Lion's Mane mushroom is packed with bioactive compounds which are your brains best friend. Lion's Mane increases mental clarity and alertness to help you glide through your busy schedule effortlessly. Enhance cognitive performance, promote brain health and help to relieve stress and anxiety with this powerful functional mushroom.
How To Use Ground Mushroom Coffee
Ground Dark Roast Shroom Coffee can be enjoyed hot or cold for the same great taste and amazing benefits.
Classic Hot Coffee – Add 15g (1 dessert spoon) of Shroom Coffee per 250ml boiled water and mix well. Allow to brew for 4-5 minutes before plunging. Add a splash of milk if desired, then enjoy!
Refreshing Cold Brew – Add 15g (1 dessert spoon) of Shroom Coffee per 250ml cold water and mix well. Keep refrigerated and allow to brew for at least 12 hours before straining. Blend with ice and a splash of milk for a shroom coffee cooler.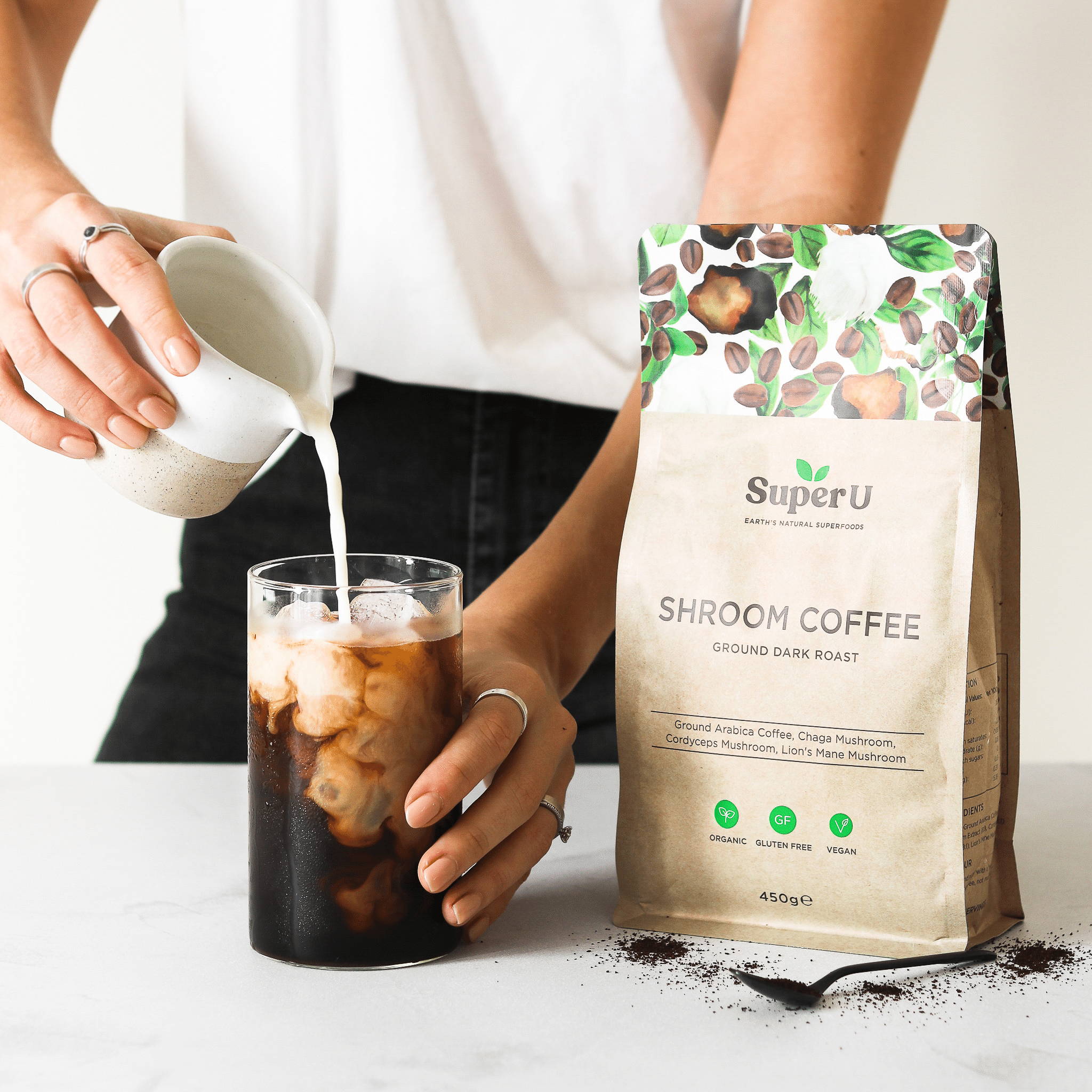 ---
---
---